Easily convert PDF to Word doc with our converter For Free

Upload a file to convert PDF to Word

Select the format and destination

Save your document in a Word format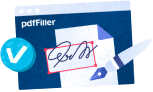 Enjoy converting PDF to Word in just 2 minutes
Users trust to manage documents on pdfFiller platform
All-in-one PDF software
A single pill for all your PDF headaches. Edit, fill out, eSign, and share – on any device.
Instructions and Help about how to copy text from pdf to word
Can you imagine that the only thing you need to change PDF to Word is to open a file in an editor, and to export it in the desired format? Yes, that's possible!
A trustworthy way to convert PDF to Word
Nowadays, when web services are becoming more and more robust every day, there is no need to look for full-fledged, installable software. You no longer have to spend your time and waste your device's memory. All the tools you need are already available right in your preferred web browser. Analogs of resource-consuming programs like Adobe Photoshop already successfully work online. When it comes to converting and editing files in Portable Document Format, it is so easy. Companies like pdfFiller are making your work with PDFs even more straightforward.
Follow the guidelines below to convert PDF to Word online using this professional service.
1. Create an account with pdfFiller.
The registration process is simple and quick. Open the browser, go to pdffiller.com, and click the Start free trial button. The service will ask you to enter your email address and password to complete the procedure.
The registration can be faster by using the Social login function. Just select one of your social network profiles (Google or Facebook), confirm your account ownership, and give appropriate access to your data. After that, logging in to your account will always only require just two mice clicks.
The registration is complete when you reach the Dashboard. You've only spent 30 seconds, but now you're already ready for editing and converting PDFs to Word, Excel, PowerPoint, PNG, and so on.

2. Prepare documents for the PDF to Word conversion.
Find the Add New button just above the right toolbar and click it. The pop-up window will appear. You will see icons that describe several possible ways of uploading a document to the service on the left side. This variety of choices makes the converting process as convenient as possible.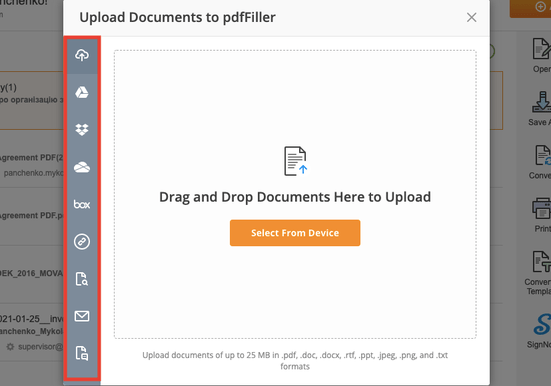 2.1. Upload documents you will convert from PDF to Word.
It is the first and one of the most commonly used importing methods. Drag and drop the file to this window or click the Select From Device button and manually find it on your computer or mobile phone.
2.2. Import files from the cloud.
pdfFiller has integrations with the most popular cloud storage platforms. You can easily connect your Google Drive, Dropbox, OneDrive, or Box accounts to the service, give the required access, and always import (or export) samples in a few clicks. If you decide to restrict access after the PDF to Word conversion, you can do it in the cloud settings.
2.3. Upload using a file's URL.
The service allows you to avoid downloading a form to your device before uploading it to the service. Just find a sample in a Portable Document Format on the web, insert its URL to the appropriate field, and the service will automatically check the doc's reliability and safety, and import it without any additional steps or actions.
To be able to use this feature, make sure you've found a file in the required format. If you find it on Google, it will always say where it came from and if it is trusted.

2.4. Search pdfFiller's library.
pdfFiller has an impressive library with more than ten million fillable templates. Here you can find various contracts, agreements, NDAs, and tax or legal forms. Some of them can be submitted to the IRS right from the service. Type a title or a description in the Search field and press Enter to get a sample, import it to the editor, and convert PDF to Word online without changing tabs.
2.5. Email documents.
Every pdfFiller user has an internal email box. Select this option, copy your address from the field, and get forms for editing and converting from external email addresses. All the samples you receive will appear in your In/Out Box folder.
2.6. Request documents.
Ask particular people to send you forms for the PDF to Word conversion using pdfFiller's internal email service. Enter the recipient's email, write a few words to describe the doc you need, or use a pre-filled template, and click Send Request. The recipient will get a regular email and will be able to send you docs as attachments. If you save your internal address, it can be one more helpful way to import your files to pdfFiller right from your inbox.
3. Open a document.
Wait for a few seconds while the service establishes a secure connection and ensures the absence of viruses. Your security is essential for us, so we always make sure to use the latest encryption and antivirus updates to guarantee your files' safety.
If you need to make some edits before the conversion, feel free to add and remove content from the doc, insert interactive elements like fillable fields, rearrange pages, etc.
4. Save PDF as Word.
Click Done in the top right corner to close the editor. Select the needed form on your Dashboard, click the Save As or Convert options. After that, select the Word format and the destination of your file. You can save the form to your device or transfer it to the cloud.
If you don't need to have all the pages in a form, just click the unnecessary pages' thumbnails on the right to deselect them. The service will export only wanted pages in your new doc.
To finish exporting, select Save As at the bottom of the screen and find a sample in the chosen destination.
You can also reach the Save As menu faster by clicking the down arrow near the Done button and selecting the needed option.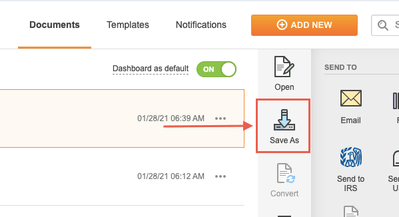 What are PDFs and why do I need to convert PDF to DOCX?
Usually, people create files in Portable Document Format to preserve their content and keep others from changing them after sending them. PDF saves the appearance of a file's content independently of the device on which it is opened: the doc will look just as good on both the latest iPhone, your work laptop, or your granny's old desktop computer. This ability makes the format one of the most commonly used file types. There are already more than 2.5 trillion PDFs in the world, and most documents and forms on the web you find and download are stored in this format.
Still, the process of creating almost any PDF starts with opening Microsoft Word. This program was developed in early 1983 and quickly became, probably the most popular word processor in the world. Word was primarily created for easy document creation and editing. Many enjoy this processor because when you fill one page with texts or images, it automatically adds a new one, and you can continue filling it with different types of content. Creating headings, tables, bulleted lists, adjusting formatting, inserting images and hyperlinks requires nothing but a few clicks. What we can see is DOCX is the best format ever developed right behind PDF, but it also has its pros and cons.
Word's major advantage is its ease of editing and its primary drawback at the same time. When you create and share a sample as an editable file, nobody can promise that the recipient will see the doc as you sent it. DOCX is not as strong as PDF is when it comes to file distortion and appearance. It depends on many factors, including a software's version, installed fonts, image sources, etc.
To save a DOCX document's appearance, people usually convert it to another file type. This format was developed as an alternative to printing and was called an electronic printout. Maybe you've heard the 'Print to PDF' phrase and know that the Save to PDF option can often be found in the Print menu. People usually associate these concepts together because PDFs retain your files' layout the best, assuring that anyone that opens a file sees the same fonts and formatting. Using this helpful format guarantees that all viewers will see the doc as you intended.
However, Adobe Systems created this format for viewing, not editing. If people usually start creating PDFs in Microsoft Word or Pages and don't build documents from scratch, why do they need a reverse conversion? This is undoing a fixed format. It seems to be a little illogical, doesn't it? However, countless users all around the world export PDF to Word every day. Why do they do that?
Earlier, people needed to turn PDF into Word because they didn't have Adobe Reader or its analogs on their devices and, as a result, no ability to view a received sample. Nowadays, it's not a reason anymore. All web browsers can easily open files in Portable Document Format for viewing and filling.
Now, the most common reason for turning PDF into Word is the need to alter a doc: not so many people know that there are many programs that allow you to do more than add doodles or insert text boxes to PDFs but really edit them. When people find a mistake or outdated information in a sample and can't access an original file, they have to change the format back to DOCX. It also requires time, effort, and, sometimes, money.
Is converting PDF to Word worth it?
Despite the ability to change PDF to Word and back utilizing their relative compatibility, these formats are different.
Microsoft Word is better for creating documents; everybody can be an author. Still, if you try to send a doc to a large audience, you'll most likely run into problems. The layout and formatting can be lost for different users, for different reasons. Moreover, not everyone has this program on their device, and installing a DOCX viewer isn't the quickest and the cheapest thing.
When it comes to distributing content among multiple recipients, consider using PDFs. The fonts and formatting are already embedded into the docs themselves. This format is much more suitable for using online because it can be viewed and filled without downloading, and DOCX cannot. PDF is also great for printing because resolution isn't lost either. And in any case, you don't need special software to view it, only to edit it.
Should I change PDF to Word for editing?
It really comes down to "it depends on". What are you planning to do?
When you need to make minor edits such as removing or replacing some words, sentences, and paragraphs, highlighting texts, adding comments, shapes, and images — it's better to use PDF editors.
If you want to edit large amounts of information (such as brochures, books, and lengthy articles), converting PDF to DOCX is a smart decision. In the process of making tens or hundreds of changes in documents, Microsoft Word's simplicity of editing more than offsets the time and effort spent on changing formats. Still, when you decide to convert your PDFs into Word documents, consider using the right software that won't give you more problems than it solves — pdfFiller.
Reasons to avoid alternative ways of turning PDF into Word
When you export PDF to Word with pdfFiller, you get a convenient and intuitive workflow. However, what do people who don't know about pdfFiller do when they want to change file formats? They google "how to change a PDF to Word". People think they will find what they need. However, mostly, they will find inconvenience: fake services, scams, and headaches. Many websites offer you "simple ways", but are they really convenient? Let's check together.
Copying, pasting, and editing
At first glance, it's the easiest method of transferring data from a PDF to Microsoft Word. You just need to select texts in a sample and paste them in another program. However, it's one of the most inefficient ways to turn PDF into Word. The system almost never copies fonts, alignment, and styles. You will have to manually adjust all these elements from the very beginning and waste a lot of time.
Converting with Adobe Acrobat
Adobe Acrobat is one of the most popular programs for handling files in Portable Document Format. Well, there is no surprise in that because Adobe Systems developed this file type in 1993. They have known about this format for longer than others, but now times have changed.
Earlier, you had to download and install a free program called Adobe Reader to view PDFs on your desktop. If you wanted to make some edits or export PDF to Word, you had to buy and install another program — Adobe Acrobat. Nowadays, you can open these files in any browser and edit them with cloud-based services without installing any software to your device and being dependent on your devices with these installed programs.
In addition, many people look for Adobe alternatives because of the high prices their products have, especially if they need it for regular PDF to DOCX conversions.
Converting PDF to DOCX with Microsoft Word and Google Docs
You can successfully use Microsoft Word as an offline and Google Docs as an online Word to PDF converter. Just select the appropriate format during the saving process. However, these services deal with inverse operations much worse.
If you have small documents with simple layouts, turning PDFs to DOCX files with Google Docs or Microsoft Word is worth trying. After that, consider enabling non-printing characters to check your sample and make sure the software hasn't transformed each line into a separate paragraph. Otherwise, you won't be able to delete content, change fonts and text size conveniently — editing the form can require more time than you could spend on finding a professional PDF to Word online converter.
Converting PDF to Word using the first platform you find
How often do you inspect the service before uploading files to it? Do you trust its developers? Have you checked their security and compliance?
Unfortunately, in the modern world, people find lots of reasons to stay out of unknown platforms. People that work with personal data, healthcare services, financial information are often at increased risk. Two minutes saved without finding the service's compliance information isn't worth your and your clients' safety. Avoid converting PDF to Word online on unrecognized servers because you don't know who and how the information you store on them will be used. Consider utilizing only trusted services like pdfFiller that are compliant with various international acts and regulations.
Does pdfFiller export PDF to Word better than other, well-known platforms?
As we see, finding a PDF to Microsoft Word converter may be a more complicated task than you thought. You have to explore its price, layouts, security, and convenience.
pdfFiller deals with all these things significantly better. By using the solution, all you need for a successful PDF to DOCX conversion is the connection to the internet. Find the nearest computer, open any available browser, and log in to your account to get the ability to convert, fill, edit, and electronically sign PDFs. You don't have to buy the latest hardware to be able to use the solution; there are no software or hardware requirements.
Our platform recognizes all content types in your file and takes them apart into many pieces to assemble it as a perfect copy in another format. This way, the layout of your document stays as it must be after the PDF to Word conversion.
The service is secure and reliable. Millions of users all around the world use the platform on a daily basis. Every day they fill out, electronically sign, and send thousands of forms.
The interface is user-friendly and intuitive. You don't have to be a pro in computer science to be able to edit and convert PDFs to DOCX. You can easily find all the needed tools and do what you need without reading lots of tutorials and how-to guides. Nevertheless, if you need some assistance, the platform's Help Center can help you get whatever it is that you need done.
Can I convert PDF to Word on iPhone or Android?
Of course! pdfFiller has a handy mobile application that provides the same comprehensive list of features as a full-fledged web service. pdfFiller for mobile makes your work without a laptop and PDF to DOCX conversions significantly easier so that you can work while on the go.
If you are on a bus, plane, or any other place around the globe, and someone asks you to send a DOCX version right now without any delays, keep calm because pdfFiller is very good at helping with this sort of thing. Follow the step-by-step guidelines below to learn how to export PDF to Word on an iPhone or Android:
01
Install the mobile app. Go to App Store or Google Play (depending on your operating system), find pdfFiller, and click Install.
02
Prepare for conversion. Open the application and log in to your account or register a new one using your email address and password. To log in using your social network profiles, click on the Google or Facebook icons.
03
Upload a file. Click Add Document and choose your preferred method. Install additional scanning apps to make the doc's appearance more accurate if required.
04
Enhance the sample. Add text, shapes, or electronic signatures.
05
Choose a format. Click Done and select Word from the Save Document As section.
06
Save a PDF as Word. Check the correctness of a chosen format and select a destination for your file: your device or the cloud. Confirm the conversion by clicking the Save button.
When you complete the steps above, you can easily share the file by email or installed messengers. The whole process takes about two minutes, depending on the size of your doc.
Extra benefits you get when you turn PDF into Word with pdfFiller
pdfFiller is much more than just a PDF to Microsoft Word online converter. It was made especially for editing files in Portable Document Format; and the ability to download PDFs as Word files is only one feature from the list of extensive capabilities. When you start using the service, you gain access to multiple professional tools and features that you can't find in most other programs, including:
Professional PDF editor.
One of the most significant pdfFiller advantages over other software is the ability to add not only texts and text boxes but also change textual content without additional PDF to Word conversions. Ensure that the
Replace Text
toggle is on, and the system will automatically recognize its size and font to allow you to make your changes. You also can insert various images and shapes (circles, crosses, checkmarks, lines, and arrows), erase data, highlight or blackout text, place watermarks, insert page numbers, etc. With the
Rearrange Pages
option at the top of the left sidebar, you can add new pages to documents or remove old ones, duplicate, move, and rotate them before you change PDF to Word.

Legally-binding electronic signature.
There is no more need to print, sign, and scan hard copies of your documents. You can make your samples legal in just a few clicks by using the
Sign
tool. If you need to get someone's e-signature, you can allow a signer to draw, type, and upload it, or prohibit some of these ways. You can also request additional authentication with a signer's photo, social network profiles, or phone numbers. All the signatures made with our service have an '
Verified by pdfFiller
' stamp and are valid under the DESIGN Act (2000) in all 50 states.

Advanced form filler.
You don't have to change PDF to DOCX to be able to enhance samples. Get the ability to add and remove smart fillable fields, make them conditional, define their validation without a single line of code. Click the green
Edit fillable fields
button on the right and drag standard or template fields to the wanted places in your document. Help your recipients fill out forms accurately using different field types for texts, numbers, dates, EIN, credit card numbers, or even images.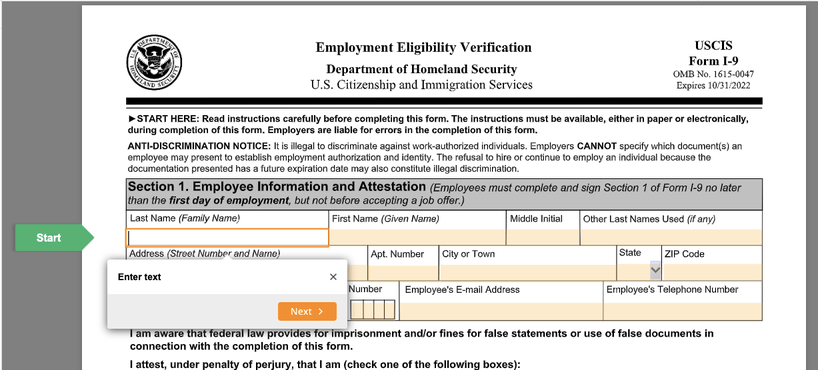 Easily shareable documents.
The service helps to share documents much faster. You can download PDF as Word, send documents for filling and signing by email or SMS right from the service or transform it into a template and allow anyone to fill out and sign forms using a public link.
Extensive exporting opportunities.
You can download a copy to your device, transfer it to the cloud, send it via USPS and notarize forms without leaving your workplace.

With all the tools and features available in pdfFiller, converting PDFs to Word documents may be unnecessary. pdfFiller successfully replaces text editors in most cases.
How does pdfFiller replace text editors if I need to create a doc?
Despite the fact that the service is associated with editing PDFs and converting PDFs to DOCX samples, it can also generate documents from scratch. Open your Dashboard, place the cursor on the Add New button, and select Create Document or Create Spreadsheet. You'll access full-fledged editors with many opportunities. Yes, fonts or functions are severely limited, but there's enough for convenient work and creating records.
Is converting PDF to Word safe?
If you ask yourself about your documents' safety even when you convert PDF to DOCX, you do everything correctly. Digital security is one of the most demanding things in the modern world, especially when it comes to collecting and storing personal data, payment details, and business management.
pdfFiller offers comprehensive security for you and your records. The service consistently updates encryption features to eliminate the smallest vulnerabilities at all the stages of your work, whether it be electronic signing or regular PDF to DOCX conversion. Now it encrypts all the data with SHA-256 — an algorithm that was developed for use in banking and medical industries. All the files are stored on Amazon's data servers, which save you from potential data loss. In addition, it automatically establishes a secure connection to protect you when you work from cafés or other public Wi-Fi networks.
If that's not enough for you, you can improve your records' protection even more by using additional security features:
Encrypt a doc. Activate a two-step verification in your Encrypted folder — click Documents > Encrypted, insert your cell phone number, and create a password that will be used to access files in it. You can add files to this folder by dragging them from any other folder. When you finish working with encrypted docs, click the key icon to lock them. The service also automatically locks them after ten minutes of inactivity.
Enable HIPAA compliance. Click My Account > Settings > Authentication and Access Security and switch the HIPAA Compliance toggle on to get the capability to store and transmit medical or any other sensitive data electronically.
Track all the changes. Never forget what you've done running back and forth between signing docs, converting PDF to Word, answering colleagues, and responding to emails and phone calls. Go to MY DOCS and select Audit from the bottom of the left sidebar to see what changes were made and when.
Log in with your phone. Add an extra verification step — add your mobile phone number to your account and click Login with Your Phone. You'll receive a text message with a PIN code that you'll need to enter into the service.
Final thoughts on converting PDF to Word
There is too much text in the article! How-to guides, how-not-to guides, formats history, exploring popular converters, etc. Why do I need all this information about format's pros and cons?
We wanted you to explore the entire picture of what PDF to Word conversion actually is. We wanted you to know that you do not have so many efficient options in the existing market.
Understanding the nature of the two most popular formats, their advantages and disadvantages, helps you make the right decision in choosing file types for the different situations you have in your document management. After you have read all these instructions and personally processed all of this information about available methods, you definitely know how to turn PDF into Word, what kind of documents suits you most, and how to quickly do your work without any additional thinking, worrying, or asking.
Knowing the quality of the most popular methods for converting helps you decide what software is the best for resolving each particular issue. Most likely, now you will be able to turn a PDF into a Word file on any device and any platform hassle-free.
The complexity of understanding the nature of files and methods of handling them accelerates your work and increases your productivity so that you become more qualified and, as a result, a more valuable employee. Yes, even such minor nuances help you to grow and develop yourself. You start with knowing how to change PDF to Word, continue with professional document editing and management. After that, you'll start thinking about utilizing automated software like airSlate to implement business process automation and get more benefits at the same time.
Writing and reading about all of pdfFiller's features would take too much time. It is better to do than to talk. Don't wait anymore; try all the tools on your own and take your productivity to the maximum!
How to Easily convert PDF to Word doc with our converter - video instructions
How to Convert PDF to Word Doc with pdfFiller
Converting PDF files to Word documents can be a breeze with pdfFiller. Follow these simple steps to make the most of the convert PDF to Word doc feature:
01
Log in to your pdfFiller account. If you don't have an account yet, sign up for free.
02
Once you're logged in, click on the 'My Forms' tab at the top of the page.
03
Select the PDF file you want to convert by clicking on it. If the file is not already uploaded, you can easily upload it from your computer or cloud storage.
04
After selecting the PDF file, click on the 'More' button located at the top right corner of the page. A drop-down menu will appear.
05
From the drop-down menu, choose the 'Convert to Word' option. pdfFiller will start processing the conversion.
06
Once the conversion is complete, you will see a notification. Click on the notification to download the converted Word document.
07
Open the downloaded Word document using Microsoft Word or any other compatible word processing software.
08
Review the converted document to ensure that all the content and formatting have been accurately preserved.
09
If needed, make any necessary edits or modifications to the converted Word document.
10
Save the edited Word document and use it as needed.
By following these steps, you can easily convert your PDF files to Word documents using pdfFiller's convert PDF to Word doc feature. Enjoy the convenience and flexibility of working with your documents in the format that suits your needs!
Using our powerful technology, you can view multiple pages of PDF/DOC documents simultaneously and compare them against their associated Word documents. It can be an extremely valuable way to start your workflow and to start exploring new ways of working, and it can help you determine where problems might lie when you begin to dive deeper into the process.. Quick Start Guide • Create PDF Reports: Capture all your documentation in one screen and easily export them to Word and other formats • Collaboration: Create a web page collaboratively and collaborative PDF templates • Share PDF: Upload PDF documents to social networks, e-mail, the web and more Manage Documents • Use your PDF reports wherever you need them • Open any document, edit, save and delete with just one click Extras • Check all your reports' stats with a single click • Print any PDF and HTML PDFs using our PDF printer Please note: This app contains no ads, but the developer is always looking for sponsorship..
What our customers say about pdfFiller
See for yourself by reading reviews on the most popular resources:
Customer Service Is Great I used this service while at work and as a functional feature it is great, does what one needs it to do. However, as sometimes happens, I needed to charge this to my personal banking account at the time. When I left the company, I contacted their customer services team via their web based chat service and a kind lady named Monica answered my query. She was very helpful, diligent in helping me locate my details, and took her time to reassure me that the service subscription had ended and evening was a-ok. I know if I ever need to use this service I will come back, and part of the reason is because the customer care was absolutely spot on. Would recommend.
THE BEST ONLINE DOCUMENT FILLING WEBSITE THAT YOU WILL FIND!! PDFfiller is the website for all your "form filling" necessities. It is comfortable and efficient and does all your work like a pro. It have some amazing features and the subscription fee is absolutely worth it! From the time you begin using PDFfiller, you will begin to praise the app for its amazingly talented editing features and efficiency. If you don't believe me, go and experience all that this website has got to offer!-A thankful customer and user.
Get a powerful PDF editor for your Mac or Windows PC
Install the desktop app to quickly edit PDFs, create fillable forms, and securely store your documents in the cloud.
Edit and manage PDFs from anywhere using your iOS or Android device
Install our mobile app and edit PDFs using an award-winning toolkit wherever you go.
Get a PDF editor in your Google Chrome browser
Install the pdfFiller extension for Google Chrome to fill out and edit PDFs straight from search results.
pdfFiller scores top ratings in multiple categories on G2
For pdfFiller's FAQs
Below is a list of the most common customer questions. If you can't find an answer to your question, please don't hesitate to reach out to us.
Why convert PDF to Word?
You can convert PDF to Word if you need to provide a Word document version of your PDF or if you want to more conveniently edit your document as a Word document.
How to convert PDF to Word?
You can convert PDF to Word with pdfFiller. Upload your PDF, make any necessary edits, and save the file as a Word document.
Where can I convert PDF to Word for free?
You can convert your PDFs for free online using pdfFiller. pdfFiller is a PDF converter that can instantly convert any PDF document into an editable document and offers you various tools and features to edit your PDF.
eSignature workflows made easy
Sign, send for signature, and track documents in real-time with signNow.